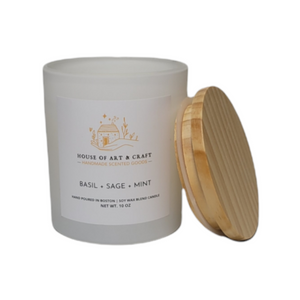 About this Product
Allow moments of stillness and invigorating herbal scents to take you on a journey of deep relaxation and tranquility. Enjoy all the notes and blends of cool mint, refreshing basil and earthy sage enhanced with a sparkle of citrus and underscored with white musk and woods.
Fragrance Profile:

Top: Lemon, Orange, Lime, Mint, Basil 
Middle: Sage, Cedar Leaf, Herbaceous, Eucalyptus
Base: Earthy notes, Musk
DETAILS
Soy wax blend

Toxic-free (Phthalate)premium fragrance

Lead free double cotton wicks 

Hand poured in small batches in Boston

Eco-friendly

Reusable jar, with wood lid

10 oz 65+ hours burn time

5oz 30+ hours burn time (Available in store only)
REMEMBER
For the first burn, please allow your candle to burn for 3-4 hours, or until the entire top layer of wax is fully liquified.

Remember to trim your wicks to approximately 1/4th of an inch before every burn. For the first initial burn that won't be necessary since every candle will come pre-trimmed.

Do not burn your candles for more than 4 hours at a time, this will keep your candle container from becoming too hot and potentially a fire hazard. 
Please refer to our candle care for proper burning instructions