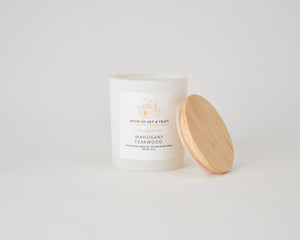 About this Product
Set the ambiance while burning this scented candle. You will fall in love  with the fresh and natural woody aromas, blended with sweet spices during the cold weather. 
NOTE PROFILE
Top: Green, Citrus
Middle: Jasmine, Rose, Lily of the Valley
Base: Sweet Spice, Woody, Musk, Vanilla
DETAILS
Soy wax blend

Toxic-free (Phthalate)premium fragrance

Lead free double cotton wicks 

Hand poured in small batches in Boston

Eco-friendly

Reusable jar, with wood lid

Approximately 65+ hours burn time
REMEMBER
For the first burn, please allow your candle to burn for 3-4 hours, or until the entire top layer of wax is fully liquified.

Remember to trim your wicks to approximately 1/4th of an inch before every burn. For the first initial burn that won't be necessary since every candle will come pre-trimmed.

Do not burn your candles for more than 4 hours at a time, this will keep your candle container from becoming too hot and potentially a fire hazard. 
PLEASE REFER TO OUR CANDLE CARE FOR PROPER BURNING INSTRUCTIONS