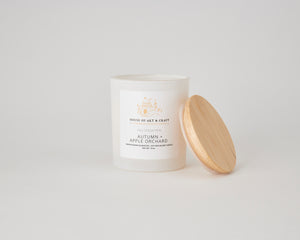 About this Product
Freshly picked apples straight from the orchard surrounds accords of cinnamon powder while a touch of vanilla warms the heart of this fragrance.
NOTE PROFILE
Top: Apple
Middle: Spice
Base: Vanilla
DETAILS
Soy wax blend

Toxic-free (Phthalate)premium fragrance

Lead free double cotton wicks 

Hand poured in small batches in Boston

Eco-friendly

Reusable jar, with wood lid

Approximately 65 hours burn time
For the first burn, please allow your candle to burn for 3-4 hours, or until the entire top layer of wax is fully liquified.

Remember to trim your wicks to approximately 1/4th of an inch before every burn. For the first initial burn that won't be necessary since every candle will come pre-trimmed.

Do not burn your candles for more than 4 hours at a time, this will keep your candle container from becoming too hot and potentially a fire hazard. 
PLEASE REFER TO OUR CANDLE CARE FOR PROPER BURNING INSTRUCTIONS
---